I. Equipment introduction

Asphalt distributor is an intelligent high-tech product that professionally spreads emulsified asphalt, diluted asphalt, hot asphalt, heavy traffic asphalt and high viscosity modified asphalt. The product has been widely used in highway construction and highway maintenance engineering. It can be used for the construction of upper and lower sealing layers, prime coats, waterproof layers, adhesive layers, asphalt surface treatment, asphalt penetration pavements, and fog sealing layers of road pavements of different grades. It can also be used for transportation of liquid asphalt or other heavy oils.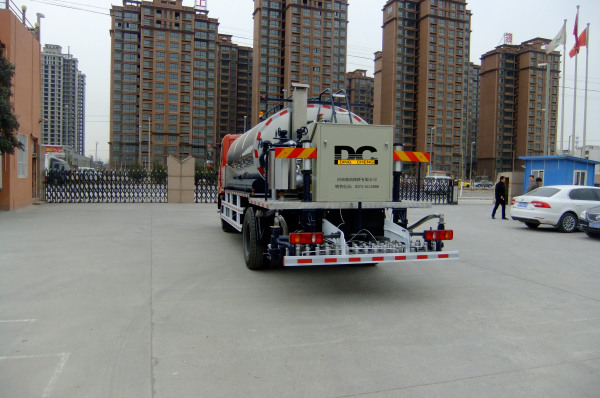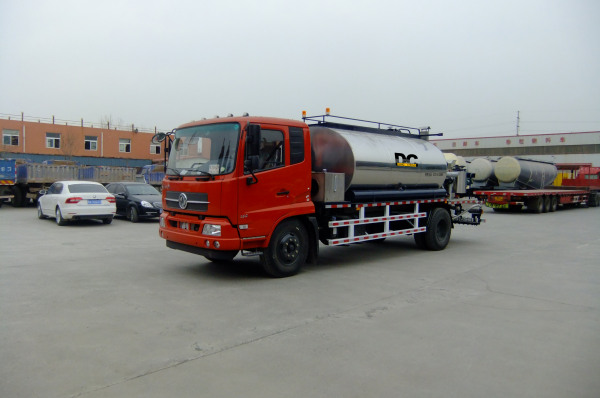 II. The main technical parameters
Product model: HTN5161GLQ
Chassis type: DFL1160BX18
Spray width: 200-6000mm
Spraying quantity: 0.2-3.0 kg/m2
Tank volume: 6000/8000L
Asphalt heating method: imported diesel burner
Spraying medium: hot (modified) asphalt, diluted asphalt, emulsified asphalt, etc.
Spraying accuracy: ±1.5%
Total weight: 15800 (kg)
Dimensions (length × width × height): 8970×2490×3030(mm)
III. Performance characteristics
1 The car is equipped with an independent auxiliary engine power system to ensure zero start spraying.
2 According to the needs of the spraying amount and the working width, the lined nozzles can be combined in any form by an industrial computer and the spray width can be randomly adjusted;
3 This vehicle adopts China National Heavy Duty Truck Prince/Dongfeng Tianjin State IV engine chassis, which has the advantages of strong bearing capacity, high power, low fuel consumption, low emission, stable and light operation, and reliable braking, etc. The cab is equipped with high-grade air conditioning;
4 The manual/automatic control mode can realize individual control of each nozzle, so as to randomly adjust the spraying width. The spraying control can be completed in the cab or on the rear operating platform;
5 The industrial computer can automatically control the spraying amount according to the input working parameters and the data fed back by the speedometer;
6 The industrial computer can correct each parameter according to the changes of the situation, so as to accurately control the displacement of the asphalt pump, so that the spreading amount error is controlled within ±1.5%;
7 The heating system uses imported burners, with automatic ignition and temperature control functions;
8 All nozzles, pipelines and asphalt pumps are heated and insulated with heat conduction oil to ensure unimpeded asphalt. At the same time, asphalt aging and scorching are avoided. The external has the heat insulation layers, which are provided to reduce the amount of heat dissipation while avoiding scald operators;
9 The key components of the complete machine (such as hydraulic pump, asphalt pump, heat transfer oil pump, hydraulic motor, etc.) adopt well-known components at home and abroad to ensure the reliability of the whole machine and increase the service life;
10 Asphalt sprayer adopts a three-section folding structure, which can achieve double or multiple spraying by moving the spreader up and down, and can expand the spread range and avoid obstacles by moving the spreader left and right;
11 Equipment warning signs, night work lighting and water spray device are all provided to prevent asphalt adhesion tires during construction;