I. Product description:

Combining years of experience in engineering construction and equipment production design, the developed rubber asphalt synchronous chip sealer is to synchronize the intelligent asphalt sprayer and the screw chip spiral spreader, so that the surface contact between the asphalt binder and the stone chip can be achieved in the quickest time. The special construction equipment for maximum adhesion is used for the gravel seal process on the highway surface, bridge deck waterproofing, and under seal layer.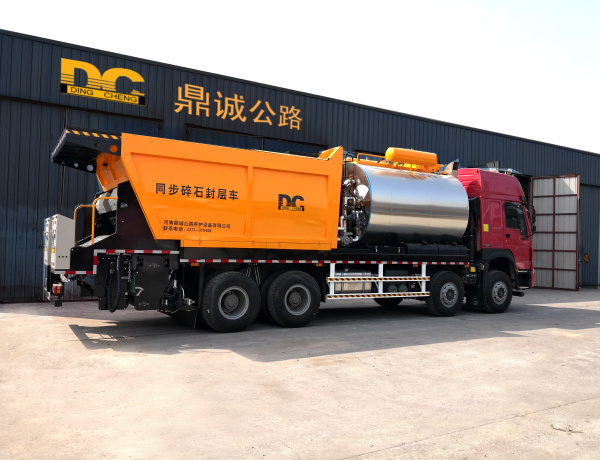 II. The main parameters
Product model: DCLWF0814
Spreader width: 200-4300(mm)
Stone particle size: 3-25(mm)
Asphalt tank capacity: 8(m3)
Hopper capacity: 14(m3)
Sprinkling medium: base asphalt, modified asphalt, diluted asphalt, emulsified asphalt
Dimensions: length × width × height = 11950 × 2500 × 4000 (mm)
III. The main features
1. The main vehicle adopts the special 380-horsepower dedicated dumping chassis developed by CNHTC Haoluo State VI. It has the advantages of strong carrying capacity, low fuel consumption, stable and light operation, and reliable braking and so on.
2. The independent power guarantee system adopts Yuchai's 73kW auxiliary engine. The main vehicle and the top loading construction do not interfere with each other and operate independently, ensuring the stable and reliable operation of the equipment, and achieving zero starting spraying operations.
3. The heating system adopts Belgium Johnson's imported gear oil pump and imported Riyal diesel dual burners. The heating efficiency is high, and the warm-up time is short and the construction time is reduced.
4. Intelligent asphalt spray system can spray a variety of asphalt media, and adopts one control of a single control, intelligent settings, follow-up with the machine, and guarantees the accurate spraying amount 0.2-3.0kg/m2.
5. Adopt stone chips lifting, auxiliary spiral conveying spread, with spread evenly and reliably, can meet the complex working conditions and surface construction requirements, spread stone size 3 - 25mm.
6. Humanized operation, real-time monitoring of the cab and automatic operation panel, the automatic and manual operation of the rear console, guarantees the automatic and manual control.
7. The product has undergone many construction improvements, with reliable performance, easy operation and maintenance, and high cost performance.